Spain - Mijas (Málaga)
Address of apartment:
29649 Mijar Golf House
C/Severiano Ballesteros
Riviera del Sol
Mijas Costa,Málaga
Spain
ACCOMMONDAUION IN PARTMENTS
Apartment for rent provides accommodation for 1-5 persons in 2 bedrooms and kids room.
Bedrooms:

2 x bedroom with double bed

1x kids room

Rooms:

1x living room with fully equipped kitchen

Sanitary facilities:

2x bathroom and toilet

Transport and parking:

Parking in the garage of the residence free of chargé
Apartment amenities
After entering into apartment you can find on the right side large bathroom with tub and toilet. Opposite the entrance door are two bedrooms. These bedrooms have double beds, and one of the bedroom has private bathroom with tub and toilet. Apartment also includes one more kids room, where is single bed. In apartment there i salso living room, which is connected to the dining room. From the living room you can get to the terrace, where is beautiful view on mountains, pool and golf course. A separate corner has a kitchen that is fully equipped with all necessary appliances such as fridge, electric stove with oven, kettle, etc. From the kitchen or from dining room you can get to the winter garden, where is a single bed.
MIJAS (MÁLAGA)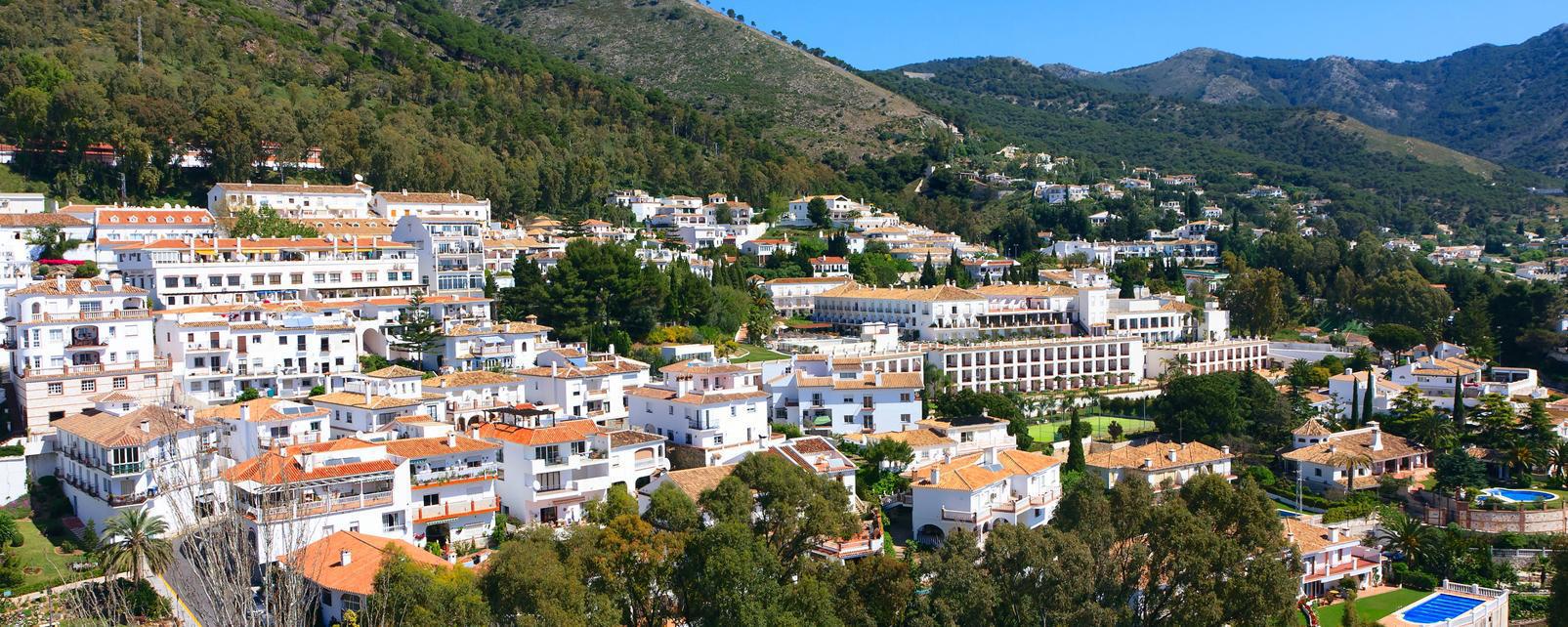 Beautiful Spanish town, which is located at the very south of Spain in the province of Málaga. Yes, we are talking about sophisticated Mijas. This city was founded in prehistoric times. They ruled by the Romans, who later succeeded Visigoths and is currently inhabit the city Catholic Spaniards. The small town is its beautiful white houses veritable jewel of the Costa Del Sol. There live 7500 inhabitans. The dominant feature of this area is golf courses. There is the largest golf resort in Spain. The capital city of the province Malaga is located 30 km from Mijas and very popular area Gibraltar is just 100 km away.
Summer and winter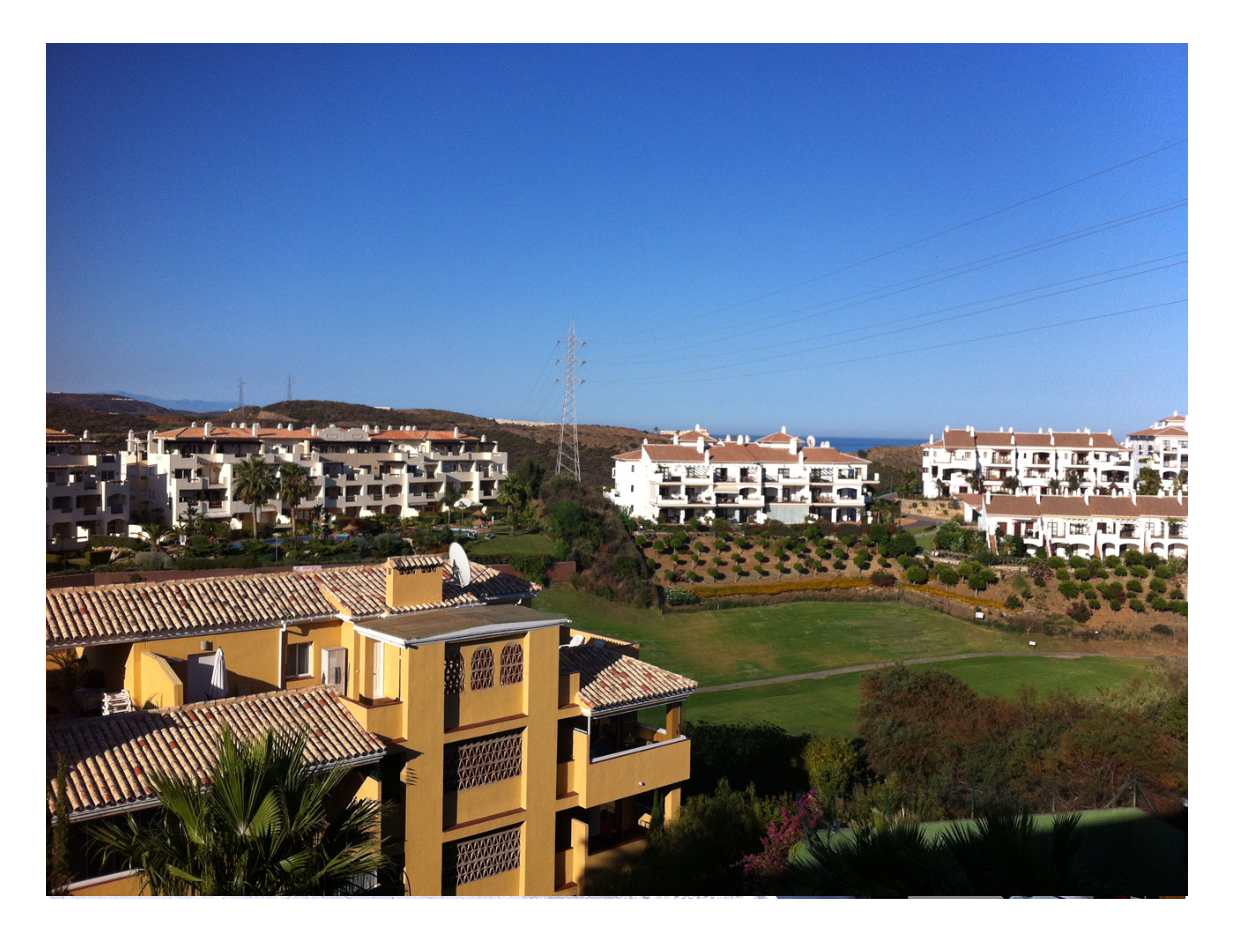 Where you can catch a good bronze? In Mijas. Beaches there have fine sand and the water is pleasantly cool. You can rent there beach chairs and umbrellas. You can also find there beach bars that are fully available to guests. Temperatures are comfortable throughout the year. In winter 13 ° C during the day and 9°C at night. In the summer 27 °C during the day and 17 °C at night. Visitors can enjoy the bullring, museums, walks in the countryside and surrounding mountains, fishing, surfing, etc. Mijas is still active fishing town and therefore you can taste selected seafood in local restaurants. In the vicinity there are also olive groves and normally there you can see local inhabitants riding on a donkey. The donkey is the most popular means of transport, so do not be surprised if you encounter on the way to the stables of donkeys, which are intended as a means of transport for visitors especially like taxi. In the area of Mijas can also take a lot of cultural events, such as the various festivals that are worth seeing. January is one of the three kings, in March are Easter with which they are associated with beautifully elaborate costumes of local residents who participate in the Easter parade. Festival Flamenco dancing town of Mijas in July and August, people look forward especially to the festival theater and rock music. Rarity are mainly golf courses- Los Lagos and Los Olivos located in the valley of Mijas, just twenty minutes from Málaga International Airport and 3 km from the sea. Both courses have 18 holes. Los Lagos has wide fairways with countless lakes and water hazards. On the pitch there are many trees that are part of the strategy deployed so as to protect the wide greens. Los Olivos is smaller that its area of Los Lagos, but its charm lies in the panoramic views from the elevated tee on the fields of olive trees, which are evently distributed around the fairways.